fix bar
fix bar
fix bar
fix bar
fix bar
fix bar
The Nursery School (Preschool)
The Nursery School (Preschool) "I Bambini del Circo Massimo" is a bilingual child care school, located in the heart of Rome, for children ranging from 3 months to 3 years old, coming from all over the world. Among the multiple educational activities that it offers, children of all ages also benefit from the presence of specialized educators who teach the English language every day.
The school is placed on a single floor of 220 squared meters indoor plus a garden of 150 squared meters. The common area at the entrance contains the lobby and a multipurpose hall dedicated to meals and some daily activities. The hall dedicated to infants is divided into a game area and a sleeping section. There are three large multipurpose rooms for expressive activities, symbolic games and psychomotricity.
The structure of the nursery school allows to divide childrens into different age ranges. In every room there's a place for changing children. Every environment is designed to promote social activities and autonomy of every child. Each class is children-friendly and well suited for their respective age.
The nursery school contains an external garden equipped with several outdoor games and an internal kitchen where we prepare fresh meals every day.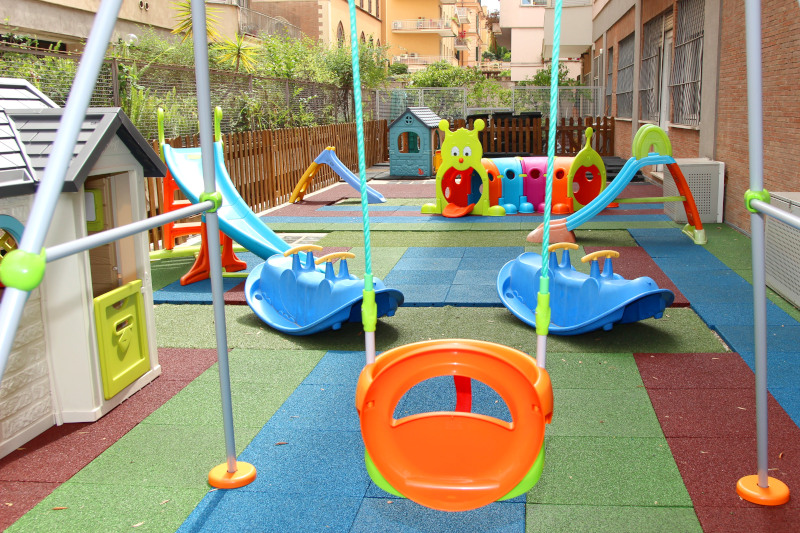 Bilingual School
Let's become citizens of the world! Learning English as a second language enriches and stimulates curiosity in children.
Qualified Staff
The nursery school is managed by psychologists and professional educators.
Flexible hours
We provide several options for exit hours to help families.
Continuous Training
The staff continuously follows courses for first aid, PBLS, HACCP and security.
Healthy Food
Our meals are prepared every day by our chef ad developed by a nutritionist.
Music Laboratory
Children follow a music laboratory with Gordon's method, given by professional teachers.
Do you want to know more?
Contact us for scheduling a visit. We'll show you the location and our educational project.
Contact Us
Address:
Via del Circo Massimo 9, 00153, Roma
An important choice
"The child is like a traveler who observes new things and tries to understand the unknown language of those around him. We adults are the guides of these travelers who make their entry into human life..."
Maria Montessori
Contact Us
Contact us to have more information. We can schedule a meeting so you can see the location and get to know our educational project.
Via del Circo Massimo 9, 00153, Roma